Implants are often considered the ultimate in tooth replacement options. More people are choosing dental implants because of the natural look, feel and stability, lasting longer than other tooth replacement options. It helps prevent bone loss because it stimulates bone growth, thereby avoiding the change in facial appearance that is common when missing teeth. In consultation with the oral surgeon, the implant process spans a few months for healing and requires a renewed commitment to good oral hygiene. Prior to extraction, we can make a temporary prosthesis so that you can maintain a natural look during healing. The surgeon places a post into the jaw bone where the tooth used to be. The jaw bone grows around the post which is what provides the best stability for restoration. After release from the oral surgeon, the patient returns to Dr. Davis for the final restoration around the post. Implant restorations include implant supported crown, bridge and denture.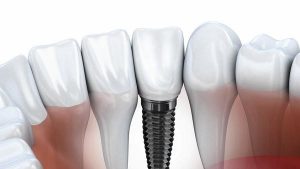 Still Not Convinced?
Read reviews

from clients who didn't know how easy going to the dentist could be.